Do You Know Your Responsibilities When Co-Signing Bail Bonds?
Co-signing a bail bond
is a huge responsibility and liability. Becoming a co-signer means you are signing a contract as the liable party for the defendant. If there is more than one co-signer, both are responsible. You're essentially assuming the consequences if the defendant does not make his or her payments, skips court, or possibly violates other terms of release that are dependent on the bail bond. 
We know you desperately just want to co-sign the bail bond because you're sympathetic to your very close friend or relative, but you should really weigh certain things before signing off:
It is the cosigner's duty to ensure the defendant appears in court and meets all other terms and conditions.
It is the cosigner's duty to ensure the defendant does not violate any terms of his or her bail and release.
The cosigner may have to pledge collateral for the bond. This is most often property, electronics, jewelry, and vehicles. The bail agency only keeps collateral if the defendant does not show up in court. Otherwise, it will be returned at the conclusion.
The cosigner should notify the bail agency of the whereabouts (if known) of the defendant if the defendant tries to flee. Otherwise, the cosigner will have consequences  (such as collateral taken).
The cosigner may request the defendant undergo certain programs and evaluations (like drug tests, mental health evaluations) before agreeing to cosign the bail bond.
What are the Rights of the Co-Signer?
When you co-sign a bail agreement, it's important that you know your rights. First of all, you have the right to refuse to be a co-signer. You should only enter a legal agreement such as this if you fully understand that you will be responsible to pay for the full amount of the bail bond if the defendant doesn't show up to court or if they violate a condition of their bail.
Cosigners can request to have their name taken off the bail bond if he or she begins to feel uncomfortable with the defendant. Then the bail bond is retracted and the defendant will be taken into custody. So if the accused commits another crime, or the cosigner believes the accused will not go to court, the cosigner has the right to cut ties with the situation to ensure their own safety.
If you are in need of a bail bond for your loved one, please call Bulldog Bail Bonds in Selma at 1-559-688-0229 .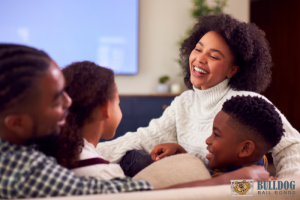 Can You Afford to Post Their Bail?
The first thing you need to consider is if you can afford to post their bail. If you're doing this without the help of a California bail bonds agency, you will get the entire bail amount back, which is great! The problem is that if court cases move slowly, it could be months before the money is returned. That's time when you won't have the money available to cover things like car insurance, mortgage payments, and groceries. 
Unless you can honestly afford to be without the funds for a long time, you shouldn't post your loved one's bail.
Do You Really Think Your Loved One Will Obey the Conditions of Their Bail
The next thing you should consider is if your loved one will follow the terms and conditions connected to their bail. Common things that are required while a person is out on bail are that they avoid anyone connected to their case, stay away from all types of criminal behavior, and stay in the general area. For serious crimes, additional stipulations such as remaining at home during specific times of the day/night will be added to the bail conditions.
If you're not 100% confident you're loved one will follow these conditions, you shouldn't post their bail.
Will They Make Their Court Appointments
The biggest thing your loved one has to do while they are out on bail is attend all mandatory court appointments. Missing a single one breaks the bail agreement. If you're not confident in your loved one's ability to attend their appointments, you shouldn't post their bail. 
Don't assume that just because you've decided that you can't post your loved one's bail that they are out of options and will have to remain in jail. They still have another option. They can call Bulldog Bail Bonds in Selma.
When they contact Bulldog Bail Bonds in Selma, your loved one will enjoy:
· 20% Discount 
· Phone approvals 
· No hidden fees 
· No collateral for working signers 
· Outstanding customer service 
The sooner your loved one reaches out to Bulldog Bail Bonds in Selma, the sooner we'll arrange to get them released from jail.
We've created two simple and safe ways to contact us. You can click the Chat Now link or call 1-559-688-0229 .