LOCAL BAIL BOND COMPANY IN FRESNO YOU CAN TRUST | ZERO DOWN BAIL BONDS
We offer a No Money Down, Zero Down, No Collateral Needed Bail Bonds with Flexible Payment Plan.
Securing the release of a friend or loved one that has been arrested can be a confusing and frustrating process. Here at Bulldog Bail Bonds, we are completely dedicated to relieving the stress and confusion by guiding you through the process step by step and ensuring that your friend or loved one is released as quickly as possible.
We've been in business for over 30 years and our bondsmen have bailed out thousands of people just like you. We are available 24 hours a day, 7 days a week and offer free consultations to discuss your options. We accept all major credit cards and also offer payment plans that break down into just three easy payments. We are the Fastest and most Affordable Bail Bonds in Fresno. Our friendly and knowledgeable bail bondsmen are highly experienced and have the flexibility to work with you to secure your friend or loved one's release, quickly and hassle free.

Don't wait – contact us today by calling 1-866-574-7760 or chat with us now. We're Available 24/7. Se habla Español.
We Offer Services In:
 Adelanto | Apple Valley | Bakersfield | Barstow | Clovis | Contra Costa | Herndon | Los Angeles | Malaga | Martinez | Modesto | Muscatel | River Park | Riverside | San Bernadino | Victorville | Visalia |
IMPORTANT THINGS TO KNOW SHOULD YOU EVER BE ARRESTED
IMPORTANT THINGS TO KNOW SHOULD YOU EVER BE ARRESTED
t is obvious that no one in the world wants to be arrested, and also quite obvious that no one begins their day planning to get arrested either. However, the truth is that a staggering amount of people are arrested everyday and in many cases it is those who really did not see it coming or head out planning to do something wrong. A mixture of a few drinks and some influential friends can make all the difference and have you dealing with police officers before you know it, especially in California.
The most important things to do when dealing with police officers is to show respect, know when to stop talking, alert family members or friends, cooperate as much as possible, and then seek out a qualified bail bondsman.
Even if the arrest is not serious and you do not think that the situation will worsen, we here at Bulldog Bail Bonds can truly help to rectify the situation. Even if you happen to feel intimidated by the officers that you are dealing with, in most cases they will answer your questions and be more than willing to help you get in touch with those that deal with Bulldog Bail Bonds.
While you may not think it, bail bondsmen can actually be your very best option and incredibly helpful should such a situation ever arise. So do not be afraid to reach out and get the help you need when you need it most.
Please call our toll-free number at 1-866-574-7760 to speak with one of our experienced agents today.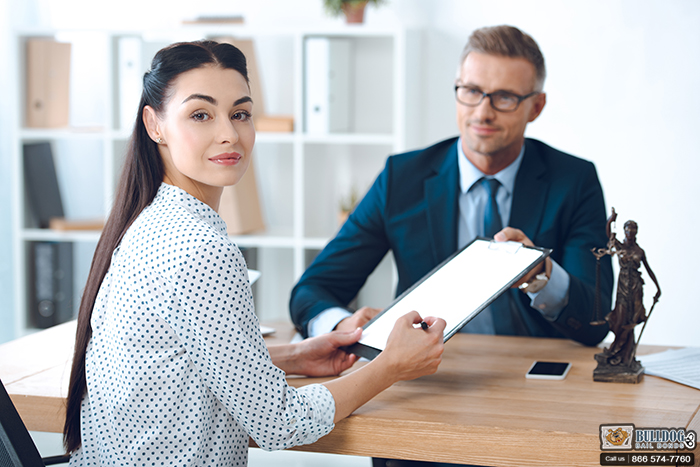 Latest Bail Bond Blog & Articles